On October 6, 2010 Facebook did a LiveStream broadcast to announce the roll out of 3 new features that they have been working on for the past several months.   Having attended this broadcast live, I felt like it would be beneficial to take notes on these new features and share them.   Following are some notes, and screen shots of this broadcast.
If you missed Facebook Live, or just want to review what was broadcast,  then this post is for you.
These announcements were some serious game changers, in fact one of them is totally innovative, and like nothing we've used before.  I highly recommend you take the time to learn more about Facebook's new features.
Embedded Recording of Facebook's Live Broadcast:
Complete Recap: 10:30 am PST 3,000 viewers – They're getting started.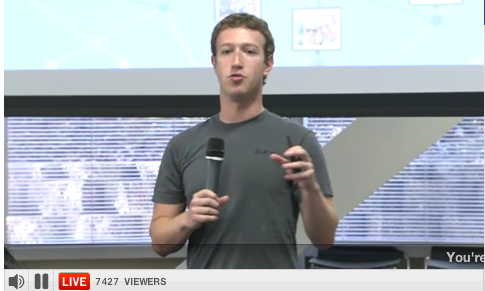 Mark Zuckerberg Speaks
10:40 am PST – 7,400+ viewers
House Cleaning Items:
Facebook is eliminating all fake name profiles.   You must be able to prove this is your name, not your business's name.  They are even calling to verfy with people who claim their fake name profile is real.  This includes Businesses using Personal profiles.
If you're one of these "fake" people your profile's days are numbered.
Rolling out more of Facebook Places on multiple types of phones.
Facebook Questions is expanding, and growing rapidly.
If you don't play games you'll see less games in your newsfeed, if you do play games, you'll see more about games in your feed food.  No more Game Spam.
The Facebook Chat API has been reworked, tweeked and improved.
More Releases and Features during the Next month
With Facebook Connect, Facebook is Building a Social Platform:
You can bring those connections to other social applications.
Find more people who have your interests to interact with.
3 New Features Announced:
1. Download Your Data
Facebook will now make it easy to safely to take your Facebook information anywhere you want.
New Product "Download Your Data"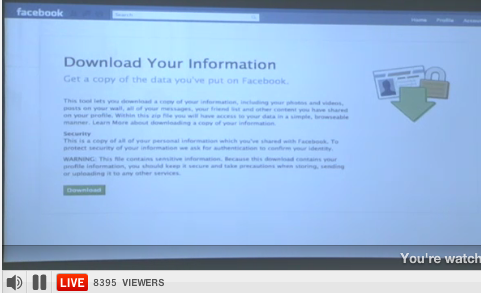 Facts:
Facebook Connect is currently the largest login system on the web.
Over 1M sites are currently using Facebook Connect
Problem: Currently it seem's like Facebook owns all of your data.
Purpose: Click and download your entire Facebook profile, info, photos, videos, message.
Benefit: This is meant for "normal" users.   Facebook wants you to own your data.
2. The "Applications You Use" Dashboard.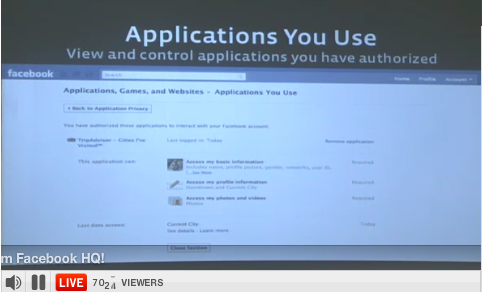 Problem to Solve: Various applications connect to your profile.
Benefit: More control of how applications uses your profile.
Features:
Change permissions, see when the last time the site "connected" to your profile.  Track it and manage it to make sure its being shared correctly.
You can manage its ability to post on your wall
Makes the users feel safer, and requires the developers to make more well rounded products.
3.  "New" Facebook Groups
Problem: You want to connect with different friends different ways.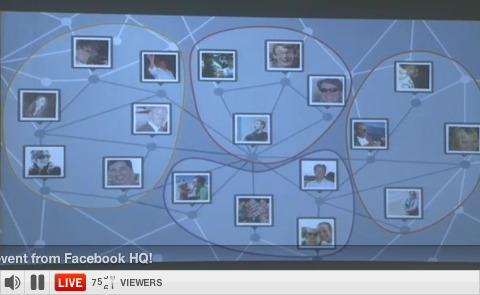 Mark Zuckerburg's Thoughts on this Problem:
What people really want is niche specific sharing.
This leads to a Catch 22.
A lot of the time you do not want to post about the same thing daily and annoy your friends who aren't into what you're into.  At the same time you do not want to exclude your friends who are into what you're doing.
Example:  If you're a runner.  Your running friends will be the ones most interested in your current speed time.  The rest of your friends… not so much.
If we can Map all real world groups, and everyone participates we will all create lots of useful of content and in the right context.
11 am:  There are currently 8560+ viewers
Naive Solutions to this "connection" problem:
Pick and choose the right people to invite to an event.
Friends lists and pick and choosing lists.  Almost no one wants to make lists.
Only 5% of FB users use lists.   and a majority of those people only make 1 or 2 lists.

No one wants to do that work.  There may be too many people in your friend pool.
Algorithmic Solution
Design an Algorithmic that tracks the weights of your friends relationships.
This is still a problem, if it works, then Facebook is creepy,  if it doesn't work Facebook is broken.
So even if it worked, it wouldn't work.
Algorithms  are still limited for grouping people.
Example of a working Algorithmic Solution:  The Facebook Newsfeed.
Social Solution:
This is Facebook's core:
Build a good interface for tagging.
Making it so that its easy for people to say "we're connected"
Would work just like Facebook photos.
11:10  10k+ viewers
Facebook's Goals for Groups:
Map all real world groups,
everyone participates
useful in lots of contexts.
Fact:  95% of Facebook users have a photo of them online.  Either one they uploaded, or one they were tagged in.
Social Solutions
Best group communication tool
easy for friends to set up.
Build the best tool to allow the groups to communicate.
5-10% of Facebook users will build a majority of the groups.
Invite your friends, tag your friends, just like photos.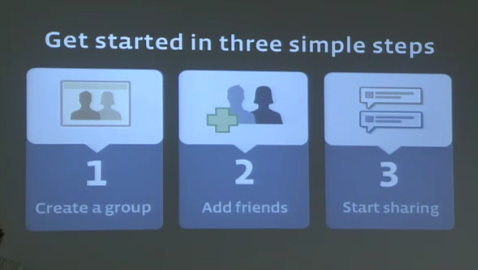 What groups would you like to create?
New Groups:
A Shared space, great for:  Family, friends, sports teams, business, work, social activities, etc.
Each group is functioned by the entirety of the group.
Features:
A wiki style note editor
group chat
ask a question to everyone in the group
email lists
Contact everyone offline and online
Control of the distribution of your message.  Conversations are integral to the group.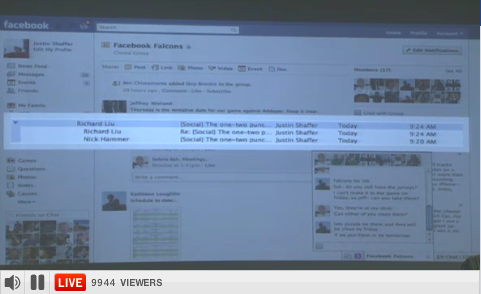 This is being released: groups, groups mobile, and group open source, for developers to build it for expansion.
The Facebook Butterfly Effect.

The interactions of one person in the product, will affect the experiences of others around them.
Audience and Space
In real Life you have your Dinner Table, Locker Room, Bar
Groups are creating spaces for your audience within the Facebook universe.
The Result of these new Facebook features is More Control and More Confidence in how a user's Identity and Facebook profile is used.
11:30  Question & Answer Session
Down to 7,000+ Viewers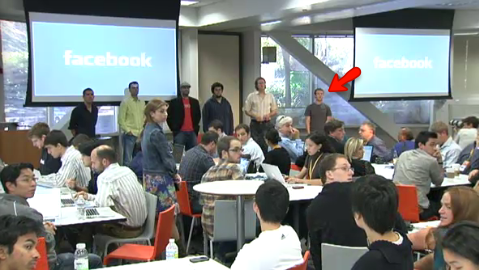 Lists will be staying, but a majority of users will use groups.
You can have your friends activity segmented by groups
By design, its easy to add someone to the group, and its simple to remove yourself.
Once removed you can't be added by someone else, you can only add yourself then.
The goal is to increase the functionality of groups and Facebook
"New Groups" are Great for groups of 3 to 100 people
After 250 users, Facebook will limit and turn off features to make it less annoying.
You can micromanage your sharing.
Your lists never affected anyone else, now this feature will compound and grow
A small % of userbase will map out the entire program.
"Friend lists felt like work;  groups is fun"  that's what will drive this.
Settings for groups: open closed and secret.  closed is the default
3 Questions to Disqus in the Comments:
Did you get to watch the LiveBroadcast?
Do you like the new features being rolled out?
What Groups will YOU create?
Want to Learn more about using Facebook Groups??
That's awesome, we want to help show you what you should do next.
Go to:  http://socialmedialistmachine.com/fb-groups-for-business/ to learn more about Facebook Groups for Business.